2017 Analysis Workshop of the Daya Bay Reactor
Neutrino Experiment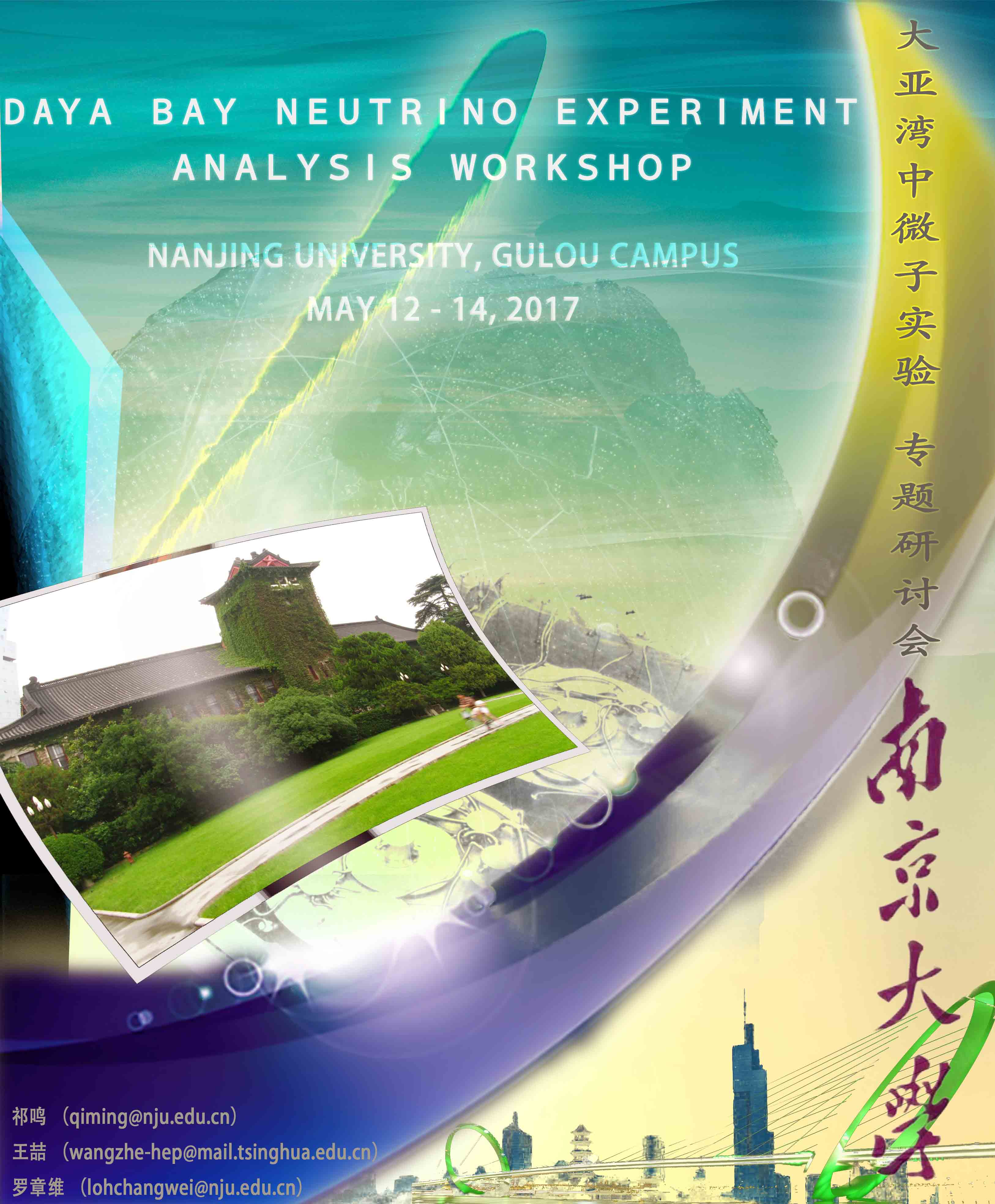 The 2017 analysis workshop of the Daya Bay Reactor Neutrino Experiment will be held at
Nanjing University, Nanjing City on May 12 - 14, 2017.
The workshop information and registration can be found at: http://dayabay.ihep.ac.cn/twiki/bin/view/Internal/Collab2017NJU
Venue
Meeting Hall (Second floor), Science and Technology Building
Nanjing University, Gulou Campus
No. 22 Hankou Road, Gulou District,
Nanjing 210093
科技馆二楼报告厅,科学技术馆
南京大学鼓楼校区
南京市鼓楼区汉口路22号,邮编:210093
Registration Deadline
Early bird registration: February 28, 2017
Late registration: April 15, 2017
Registration Fee
The workshop fee is 800 RMB/person for early bird registrants, and 950 RMB/person for late registrants, which will cover meals, coffee breaks and internet network. Payment can be done at the Registration Desk upon arrival. The fee should be paid in Chinese RMB only. Please note that credit card payments are not accepted.
The registration fee for each family member is ¥600 RMB/person.
Visa
The Hosting University (Nanjing University) will be responsible for issuing invitation letters for the purpose of visa applications of participants and their family members.
Click for further Visa Information.
Accommodation
Two hotels with different rooms and prices are available for your selection on a first come first serve basis.
Click for further Accommodation information.
Getting to Nanjing University, Gulou Campus
Click for further Transportation information.
Contact Persons of LOC, Nanjing U./Tsinghua U.
Prof. Ming Qi
qming@nju.edu.cn, Mobile: 18951916428, Office: +86-25-83597551
Asso. Prof. Zhe Wang
wangzhe-hep@mail.tsinghua.edu.cn, Mobile: 13693213163
Dr. Chang Wei Loh
lohchangwei@nju.edu.cn, Mobile: 15651038723
- Welcome to Nanjing -