What is LHAASO?
The Large High Altitude Air Shower Observatory (LHAASO) is one of the 16 projects in the State Council's "Long-term Plan for the Construction of Major National Science and Technology Infrastructure (2012-2030)". It was approved by the National Development and Reform Commission, China's top economic planning body, on December 31st 2015. It is located at Haizi Mountain (4400 m above sea level), Daocheng, Sichuan Province.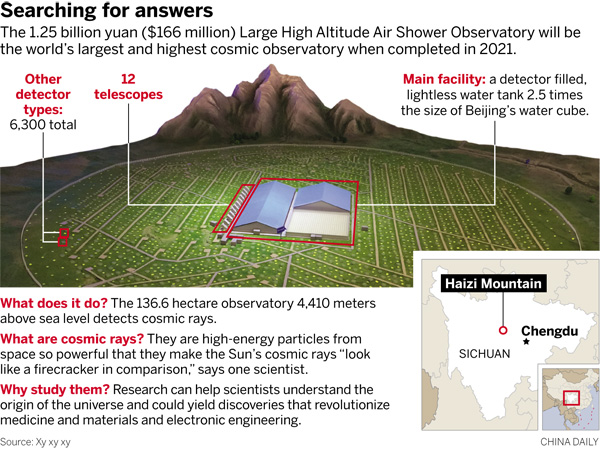 Visiting LHAASO
If you want to visit LHAASO at Daocheng on June 23, please book round trip air tickets in advance, and send email to us (yinqq@ihep.ac.cn) with the application information shown below:
Full name:
Gender:
Flight information (between Chengdu and Daocheng):
Shared or non-shared room (at Daocheng):
* The deadline of Application will be expire on June 1.
Notes:
1. All expenses (incl. air tickets and hotel) for your visit will be met by yourself.
2. The site of LHAASO is located at high altitudes (4400 m above sea level), please confirm whether you can go there.
3. The schedule is as follows:
| | |
| --- | --- |
| Date | Schedule |
| June 23 (morning) | Flying from Chengdu to Daocheng (the site of LHAASO) |
| June 23 | Visiting LHAASO led by our staff |
| June 24 (morning) | Flying from Daocheng to Chengdu |
How to get to Daocheng?
The flights from Chengdu to Daocheng:
Airlines

Departure
Arrival
Duration

Sichuan Airlines

3U8005

6:15 am

CTU T1

7:20 am

DCY

1h 05m

Air China

CA4215

6:20 am

CTU T2

7:35 am

DCY

1h 15m
The flights from Daocheng to Chengdu:
Airlines

Departure
Arrival
Duration

Sichuan Airlines

3U8006

8:00 am

DCY

8:55 am

CTU T1

0h 55m

Air China

CA4216

8:25 am

DCY

9:25 am

CTU T2

1h 00m