1. If you are a new user, please register to get an Indico account through https://login.ihep.ac.cn/registIndico.jsp. Any questions, please email us at helpdesk@ihep.ac.cn or call 88236855.
2. The name of any uploaded file should be in English or plus numbers, not containing any Chinese or special characters.
3. If you need to create a conference in the "Conferences, Workshops and Events" zone, please email us at helpdesk@ihep.ac.cn.
13-17 May 2019
Asia/Shanghai timezone
From Shanghai to Wuxi
Time to spend: about 40min for the trip
Transportation: CRH train (China Railway High-speed train)
There are a few ways for you to obtain train tickets:
(1) Buy at a train station or a ticket office
(2) Book with China railway's official website (www.12306.cn). This is the choice of many Chinese. Very unfortunately, the website has no English interface
(3) Book via third-party online platform, for example, Ctrip (携程) https://english.ctrip.com/
ID/Certificate required for booking
Foreign passengers: passport or travel permit
Hong Kong, Macau, and Taiwan passengers: Mainland Travel Permit
If you know someone who speaks Chinese, or you want to have some adventure, then you may use (1) and (2). However, (3) may be the easiest. The following is the webpage of Ctrip for booking tickets.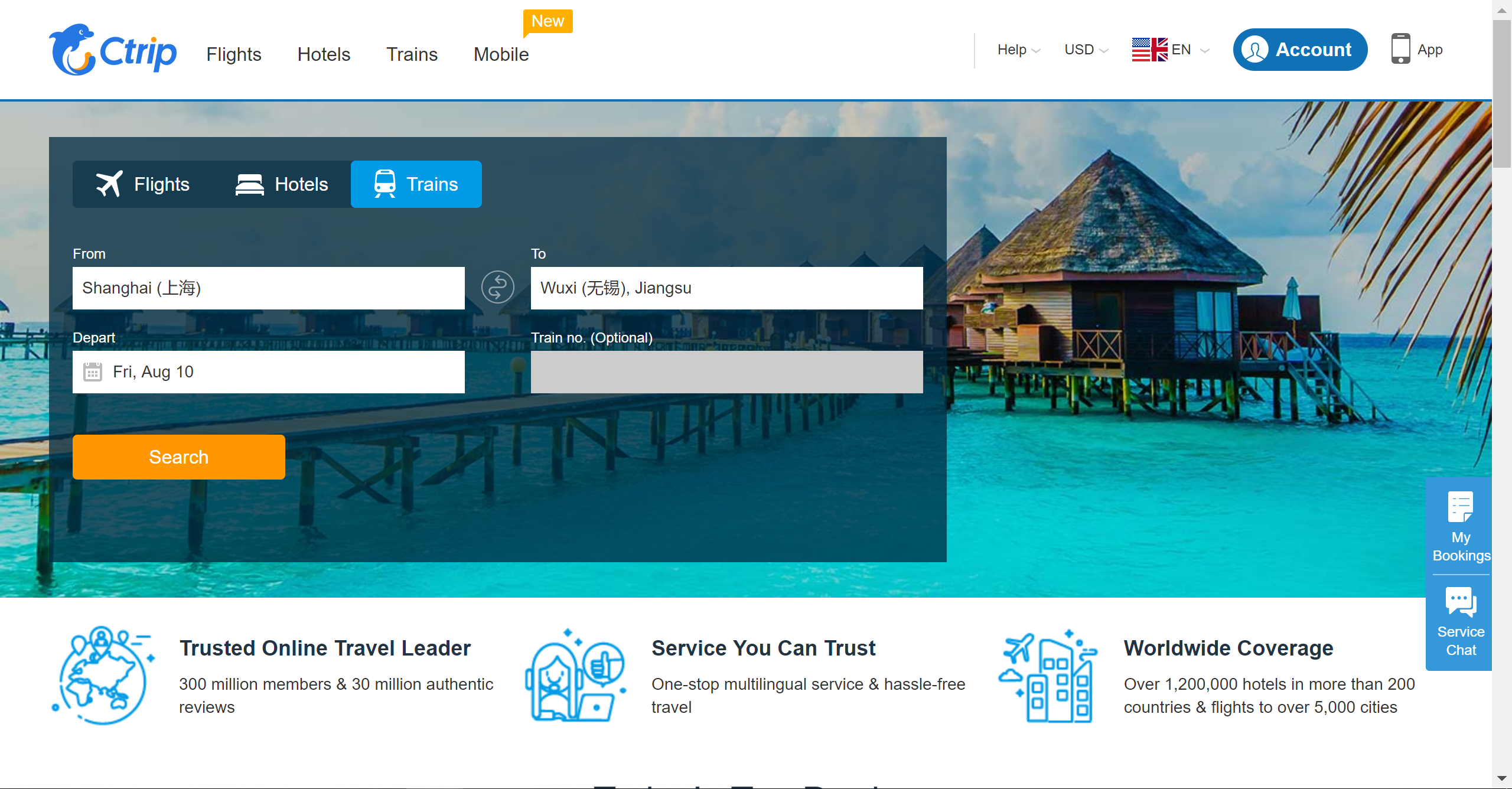 The number of a train you can choose has a leading English letter G or D, followed by 2 to 4 Arabic numbers, for instance, G7072 in the above picture. For trains with letter G, three types of seat classes are available: Business Class (sometimes Premier Seat in the case of no business case), 1st Class, and 2nd Class, but for trains with letter D, only 1st class and 2nd class are available. The costs for the three classes are, respectively, about $26 ($14 for Premier Seat), $12, and $7, subject to small fluctuations depending on the time of a day. The business class is much more luxurious than the 2nd class, but it is not really necessary as the journey is short from Shanghai to Wuxi, less than an hour.
Information on a Train Ticket
The following is an example of a train ticket from Guilin Station to Nanning Dong Station (Nanning East).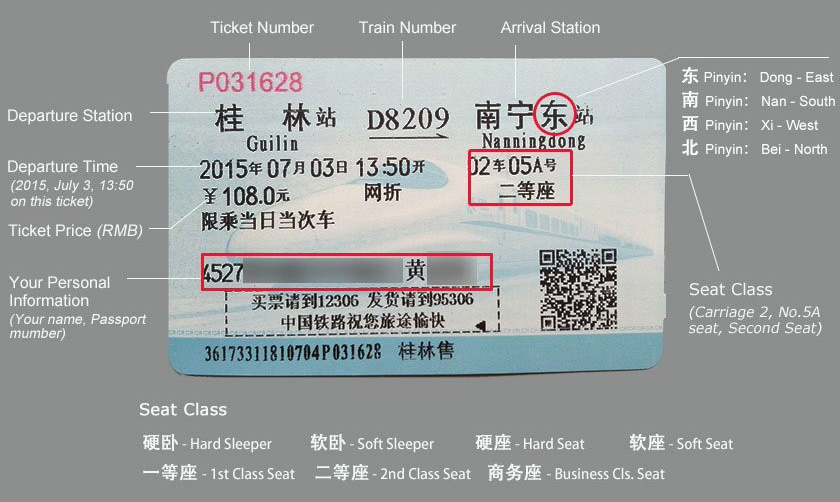 Two International Airports in Shanghai
Shanghai City has two airports: Shanghai Pudong International Airport and Shanghai Hongqiao International Airport. Pudong Airport is the main international airport, while Hongqiao Airport mainly operates domestic flights with limited short-haul international flights.
Shanghai Hongqiao International Airport is convenient for Shanghai Hongqiao High-speed Railway Station, as it is close to the Railway station and the transfer from the airport to railway can be done inside the building within somewhat more than 10 minutes on foot following the direction guide signs. Shanghai Pudong International Airport is about 50km away from Shanghai Hongqiao International Airport. A few transfers are available between Pudong International Airport to Hongqiao International Airport, but the simple ones are Airport Bus Line 1, departure with an interval of 20 min, taking no more than 80 min at a cost of RMB30, if no traffic jam on the highway, and Metro Line No.2, taking about 90 min at a cost of RMB8. Of course, taxi is another convenient option, costing RMB200-300 (Remember to ask for a receipt in case of property loss and complaints, or for other purposes).
You may book transfer assistances at the airport and the railway station from your travel agency, which may provide personally customized services at a small cost. Please consult your travel agency.
Two High-speed Railway Stations in Shanghai
Shanghai City has two High-speed Railway Stations: Shanghai Hongqiao High-speed Railway Station and Shanghai Railway Station. The two stations are approximately 22km apart, and both provide high-speed railway travel services. Be careful with which one is your correct departure station.
Two High-speed Railway Stations at Wuxi
Wuxi City also has two High-speed Railway Stations: Wuxi Dong Railway Station (Wuxi East Railway Station, Wuxi East for short) and Wuxi Railway Station (Wuxi for short). Be careful with which one is your correct destination station. Wuxi Dong Railway Station is recommended.
Some Useful Sentences
Here list some sentences that might be useful on your arrival:
English

Chinese

Wuxi Juna Hubin Hotel

Address: 1 Huanhu Road, Wuxi, Jiangsu Province, China, Postcode 214075

Tel: (86-510) 85101888

Fax: (86-510) 81186688

Email: hubin@junahotels.com

Website: www.hubinhotel.com

无锡君来湖滨饭店

地址:环湖路1号,无锡,江苏

邮政编码214075

电话:(86-510) 85101888

传真:(86-510) 81186688

电邮:hubin@junahotels.com

网址:www.hubinhotel.com

Please tell me how to get to Hongqiao High-Speed Railway Station.

请告诉我如何去虹桥高铁站。谢谢。

Could you please help me to buy a ticket for high-speed train to Wuxi.

您能帮助我买一张去无锡的高铁票吗?

Please take me to Wuxi Juna Hubin Hotel and give me the receipt. Thank you.

请送我去无锡湖滨饭店,并请把发票给我,谢谢。

Please tell me where the bathroom is, thank you.

请告诉我厕所在什么地方,谢谢。

Please tell me where I can take a taxi.

请告诉我什么地方能乘出租车。

Where can I buy a high-speed train ticket to Wuxi?

在哪儿我能买去无锡的高铁票?

Please help me to call this mobile phone number.

请帮我打这个手机号码。

Where is the bank?

银行在什么地方?

I'd like to exchange some US dollars/Euros for RMB (some RMB to US dollars/Euros).

我想把一些美元/欧元兑换成人民币(把一些人民币兑换成美元/欧元)。

I don't feel very well; please take me to hospital. Thank you.

我感觉不舒服,请带我去医院,谢谢。

I have a little (diarrhea, headache, fever, stomach distress).

我有点(腹泻,头痛,发烧,胃不舒服)。

How much?

多少钱?

I'd like to buy this.

我想买这个。

Where is the nearest supermarket?

最近的超市在什么地方?

I want to see a police officer.

我想找警察。

Where can I find a restaurant?

什么地方有餐馆?

I'd like to have a person who speaks English.

我想找一个会说英语的人。

I'd like to have (dry red wine, beer, mineral water, coffee, tea).

我想要(干红酒,啤酒,矿泉水,咖啡,茶)。

Please give me the receipt. Thank you.

请把发票给我,谢谢。
Arrival Assistance
Here we'd like to inform you of our preliminary arrangement for your transportation after your arrival. It is preliminary because some of our foreign participants have not yet notified us the information about their flights.
On your arrival, assistance will be provided to assist you to go to Wuxi on May 11 and 12. On May 11, two people (Dr. Pei & Mr. Pan) will be meeting you at the airport with your name on a plate and help you to buy ticket for the high-speed train to Wuxi. On May 12, two buses hired especially for SPLG participants will be arranged, one in the morning and one in the afternoon. You will be guided by the two people to the buses. The precise departure times for the two buses will be announced later. If, for some reason, you miss the buses, there are 13 shuttle buses a day from the airport (Pu Dong) to Wuxi station at a cost of RMB100.
Please be aware that the above two options both may not be very satisfactory, because you may likely have to wait for a period of time before you can leave for Wuxi. The reason is simple: you may not be able to catch the nearest train, or you may need to wait for the arrivals of other participants. Wuxi is not far away from Shanghai, and Shanghai is a well-internationalized city. If you want to have some "adventure" or do not want to wait, it should not be difficult for you to find the ways of going to Wuxi. You can buy a train ticket by your own with your passport at a ticket office, or take a taxi (which costs you more than the train) or ride a bus.
Most of you land at Pu Dong airport. When you decide to travel with the high-speed train, you will need to first transfer to Hong Qiao airport via metro, or taxi, or bus, because the departure station of all these trains in Shanghai is at Hong Qiao airport. There are three railway stations in Wuxi: Wuxi station, Wuxi East station, and Wuxi Xinqu station (i.e., Wuxi new district). Please best choose Wuxi station as your destination, which is the one closest to the hotel. The cost from Hong Qiao to Wuxi is about RMB60 (2nd class seat) or RMM95 (1st class) or RMB155-190 (business class) for trains with the initial letter G or D. Trains with other initial letters (Z, T, K) are also fine, but slower, although cheaper.
After you arrive at Wuxi by train, transportation is also arranged to take you from the railway station (Wuxi station) to the hotel, and Prof. Jiang and Mr. Feng will be there to assist you. However, you will again very likely have to wait until the time for departure is reached or there are enough number of participants for the bus. Therefore, the quickest and most convenient way to go to the hotel is perhaps taking a taxi.
Should any adjustment to the above arrangement is made, it will be announced via email.
Some advices to you:
1. It would be helpful to have some cashes with you; a few hundred RMB should be enough for you to buy the ticket or take taxi. If you need more, you can exchange in Wuxi.
2. China is a very safe country, but you still need to take care of your belongings, especially the important documents. Pickpockets are everywhere in the world, and so is in China.
3. You may send a short message to the people who will be meeting you in Shanghai, when you have passed the passport control of the custom.
4. You may print the above useful English-Chinese sentences, which may be very helpful.
5. If you take a taxi, always ask for a receipt before getting off. The receipt can be used to find the taxi in case of problems such as property losses or later complaints.