1. If you are a new user, please register to get an Indico account through https://login.ihep.ac.cn/registIndico.jsp. Any questions, please email us at helpdesk@ihep.ac.cn or call 88236855.
2. The name of any uploaded file should be in English or plus numbers, not containing any Chinese or special characters.
3. If you need to create a conference in the "Conferences, Workshops and Events" zone, please email us at helpdesk@ihep.ac.cn.
26-28 October 2020
Shanghai
Asia/Shanghai timezone
交通 Ground Transportation
主会场地址: 上海交通大学闵行校区
Conference Venue: Shanghai Jiaotong University(Minhang Campus).
地址: 上海闵行区东川路800号。
Address: No.800, Dongchuan Road, Minhang District, Shanghai (in SJTU Minhang Campus).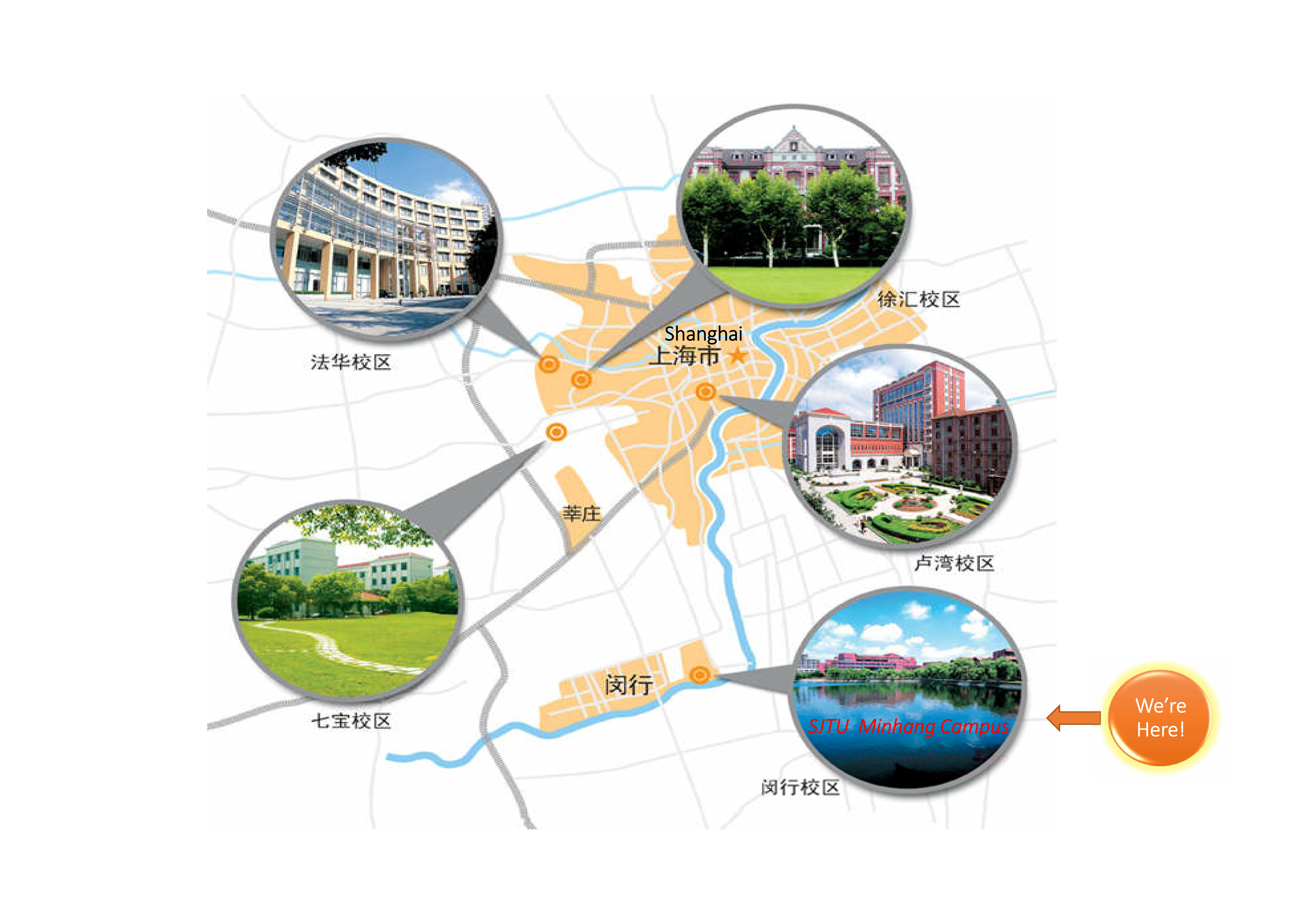 As a convenient and economical way of keeping in contact while travelling, consider purchasing a SIM card at the airport (arrival hall, near luggage area) with a small cost (50-100 RMB varied by carrier, minutes and data etc.).
We recommend participants to take taxi to hotel and/or the conference site. Taxi is in general not expensive (tips are not required). DiDi App is very popular to call Taxi in China.
出租车信息 Taxi Information:
目的地:上海交通大学闵行校区,上海闵行区广东川路800号
Destination: To SJTU Minhang Campus (Address: No.800, Dongchuan Road, Minhang, Shanghai)
1. 从浦东国际机场 From/to Pudong International Airport :
Taxi -cost ~ RMB 175-200 (about 50-60 minutes, 56 KM)
2. 从虹桥机场 From/to Hongqiao Airport:
Taxi -cost ~ RMB 90-100 (about 35-40 minutes, 30 KM)
3. 从虹桥火车站 From/to Shanghai Hongqiao Railway Station
Taxi -cost ~ RMB 90-100 (about 35-40 minutes, 30 KM)
4. 从上海火车站 From/to Shanghai Railway Station
Taxi -cost ~ RMB 110-125 (about 45-50 minutes, 40 KM)
地铁 Public Transportation-by Metro:
Please go to the following information and maps for your reference: